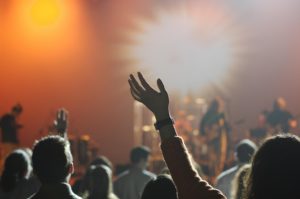 King David understood that the presence of God was a place for thanksgiving, praise and worship (Ps. 100; 1 Chron. 16, 23, 25). The apostle John had a revelation of God's throne-room being filled with praise and worship (Rev. 4-5). Even Jesus said that if people did not worship then the rocks would have to cry out because God is so worthy (Lk. 19:40).
Worship is a key element in our entry into and existence within God's presence. We are the ones who are called to guide the Body of Christ into the presence of the Lord. Every Sunday, we come to encourage the congregation to express their love for Jesus in a meaningful and open way.
We meet Thursday nights at 7:00 p.m. for practice and learning, and we meet again on Sunday mornings at 8:30 a.m. to prepare to lead corporate worship at that begins at 10:30 a.m. We are learning and growing in listening to the leading of the Holy Spirit for direction for the Sunday morning worship service.